Beautiful Fillies Collection Fascinators from Australia
Welcome to the online shop for Hats From OZ, where you can find hundreds of the latest Fillies Collection fascinators at affordable prices every day of the year.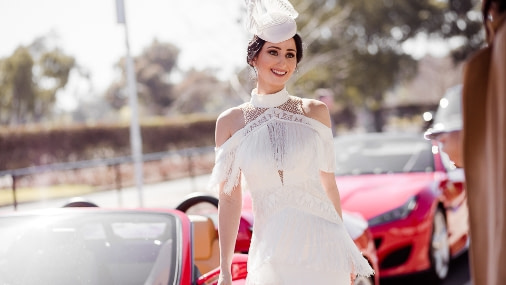 Browse our Range of Fillies Collection Hats
Words can't even begin to describe the wild and wonderful world of women's headwear that we have for sale right now. Luckily for you, we have pictures. Just browse through the listings and let your imagination run free. Think of all of the outfits you could put together with some of these beautiful hats and fascinators.
We also have a large selection of more traditional types of headwear, such as a pillbox or wide brim hat for that timeless look.
Place A Custom Order for Fillies Collection Millinery
We have a huge range of fascinators and hats ready to go, but you can also place a custom order to get it just right. Choose the colour to match or contrast with your outfit, or to fit in with a particular themed event, and you can even send us your own fabric to use. Contact us today to find out what we can do with your next order of Fillies Collection hats or fascinators.
Free Shipping and AfterPay Available
We believe that going out for a day at the races, and looking like a model while you're there, is not something that should be reserved only for the rich and famous. You should not have to sell your beach house and yacht in order to afford a great outfit!
So, other than having permanently discounted prices on Fillies Collection millinery compared to our competitors, we also offer free shipping to Australia, New Zealand, and the United States. Also, don't forget to check out the AfterPay service for stylish ladies on a budget.
That's all we really wanted to tell you for now. We believe that our products will do the rest of the talking for us. But of course, if you have any questions about anything you see here, don't be shy to ask!
Stick to Your Budget with AfterPay
We know what it's like to see beautiful things for sale and the need to have it right away. Perhaps you have an upcoming event and you saw something you like in our range of casual hats for ladies but you thought you couldn't afford it in time for the occasion. That is why we offer a service called AfterPay.
If you decide to use AfterPay, you can order and receive your products immediately without paying anything. All you need to do then is pay off the cost over four instalments. This service is completely free to you when you make the payments on time, so there is absolutely no added costs. The price you see listed here is the price you will pay in instalments.
So, now that you know a little bit more about what we do here at Hats From OZ, it's time to get back to browsing our women's casual winter hats and stylish summer headwear. We hope you find something you will love for many seasons to come.