Ladies Winter Fashion Hats
All Kinds of Winter Occasion Hats
Whether you are looking to buy one of our beautiful bucket hats online or anything else from our large selection, we are sure you will find something that will make you smile. In fact, we have over a hundred different fashionable winter hats so there is something here for everyone. Our styles include:
Cloche hat

Bucket

Wide / Medium brim

Pillbox

Beret

Trilby
  And more unique looks Here at Hats From OZ we can also make custom hats for your special events. If you like one of our hats but you would rather have it in a different colour, just contact us and we will accommodate your requests. Now there is no excuse for being the odd one out and having the wrong colour felt hat for group events, or just to match your own outfit.
High Fashion at Affordable Prices
You may have already browsed through some of the retail stores or our competitors with cloche hats for sale and been stunned at their price tags – we don't play that game. We believe that the quality of our work, and the beauty of our designs, speaks for itself without the need to hike up the price in an effort to appear trendy. In fact, you can find a bucket hat or any number of other styles in our online store for less than a hundred dollars – sometimes much less. We can do this because we have been in business for over 50 years, and we are selling direct to you without the extra costs associated with traditional retail sales. To make things even more affordable for fashionable women on a not-so-fashionable budget, we offer a service called Afterpay. You can order from our online store today, get your product delivered, and then pay for it over the next two months in bi-weekly payments. This service is free to you as our valued customer, with no extra fees or interest if you pay the instalments on time.
Free Shipping to Australia, New Zealand, and United States
Just when you thought buying from Hats From OZ couldn't get any more affordable, we introduce to you our free shipping offer for all customers in Australia, New Zealand, and the US. We will ship your order within one or two business days, and all products are carefully packaged so you won't end up getting a crumpled mess in the mail. Of course, we ship to other international destinations as well, so check the shipping price during checkout before you pay. That's all from us for now. Take your time and browse through the hundreds of hats and fascinators. we have available and we're sure you will find something you will love.
Women Winter Hats Online in Australia
The team here at Hats From OZ wants to bring you the perfect hat for any season, and that means winter too! There is no need to curl up in a ball and hibernate during the cooler months, so it's time to brighten up the season with one of our ladies felt hats or something else from our range of stylish headwear.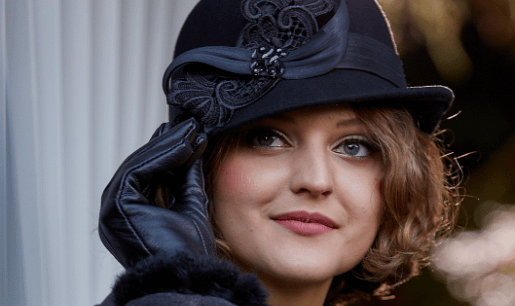 Stick to Your Budget with AfterPay
We know what it's like to see beautiful things for sale and the need to have it right away. Perhaps you have an upcoming event and you saw something you like in our range of casual hats for ladies but you thought you couldn't afford it in time for the occasion. That is why we offer a service called AfterPay.
If you decide to use AfterPay, you can order and receive your products immediately without paying anything. All you need to do then is pay off the cost over four instalments. This service is completely free to you when you make the payments on time, so there is absolutely no added costs. The price you see listed here is the price you will pay in instalments.
So, now that you know a little bit more about what we do here at Hats From OZ, it's time to get back to browsing our women's casual winter hats and stylish summer headwear. We hope you find something you will love for many seasons to come.