Turbans
Showing all 4 results
5 reasons to wear turbans to conceal your hair loss
Zero effort
Ladies' turbans look like an intricate head wrap when in reality they come as a one-piece. No need to tie a scarf to achieve the look, and it won't come loose during the day.
Full coverage
When you are trying to conceal hair loss, you need an accessory that will cover your entire head. This is exactly what a turban does while providing you with physical and emotional security.
Seamless
While online shopping for turbans, look for the ones with no seams and a silky lining to protect the sensitive scalp skin from irritation.
Soft material
Our products are made of high-quality fabrics that are hypoallergenic, breathable and are comfortable to wear against bare skin.
Additional volume
Turbans are wrapped in such a way that they create an illusion of hair underneath them. Voluminous wraps are universally more flattering than flat beanies.
Celebrity inspiration
Turbans are not only comfortable and snuggly. They are also very fashionable, and celebrities are the living proof of that. Actress Eva Mendes is the modern Hollywood queen of turbans. The mother of two juggles home and career and frequently confesses that head wraps allow her to skip styling her hair and yet still look chic and trendy. Celebrities such as Salma Hayek, Kate Moss, Beyonce, Alicia Keys, Jennifer Lopez, Kourtney Kardashian, Sarah Jessica Parker, Katy Perry, and Tyra Banks have all rocked this trend on the red carpet proving that turban is a versatile accessory! We offer stylish women's turbans for sale at affordable prices. Get one today and bring your wardrobe to the star level!
How to style a turban
Being a cancer patient is no excuse for losing your style. In fact, a turban can add a touch of glamour to any everyday look. You can pair it with anything – from relaxed boyfriend jeans with a plain white t-shirt to a floor-length evening gown. Possibilities are infinite! Our online store is stocked with a wide range of women's turbans for sale. They come in a variety of colors to complement any outfit – from bright, bold shades to muted neutral hues.
Why you should buy turbans in our store
Are you looking for cheap turbans online? Don't compromise high quality for a low price! We have the biggest assortment of headwear on the web at the best price. We will deliver your purchase completely free of charge anywhere in Australia. And if you live outside the continent, don't worry! We also deliver worldwide. The shipping price depends on the order and is automatically calculated at checkout.
Buy turbans online at Hats From Oz store
Fighting cancer is hard enough on itself. But chemotherapy can take its toll not only on your body but also on your self-esteem. Losing your hair is no picnic, especially for women. Unfortunately, there is not much you can do to solve the problem. One option is to buy a wig, but the high-quality ones are quite expensive and still look fake. How about a women's turban hat? It is an excellent and affordable alternative to a pricey wig. What is more, it comfortable, stylish, and keeps your bare head warm at all times. HatsFromOz.com.au is your one-stop shop for ladies' headwear! Worldwide shipping, affordable prices, and excellent customer service make us your #1 online turban store on the web.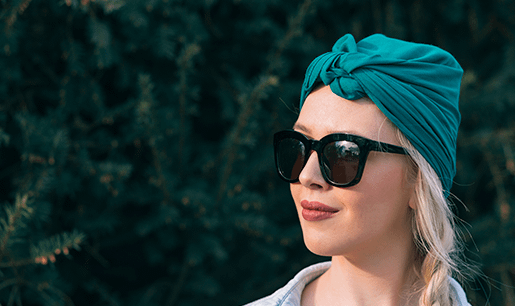 Stick to Your Budget with AfterPay
We know what it's like to see beautiful things for sale and the need to have it right away. Perhaps you have an upcoming event and you saw something you like in our range of casual hats for ladies but you thought you couldn't afford it in time for the occasion. That is why we offer a service called AfterPay.
If you decide to use AfterPay, you can order and receive your products immediately without paying anything. All you need to do then is pay off the cost over four instalments. This service is completely free to you when you make the payments on time, so there is absolutely no added costs. The price you see listed here is the price you will pay in instalments.
So, now that you know a little bit more about what we do here at Hats From OZ, it's time to get back to browsing our women's casual winter hats and stylish summer headwear. We hope you find something you will love for many seasons to come.