Exclusive fascinators: Be elegant without paying too much
In addition to highlighting your beauty and making it beyond compare, our designer hats are reasonably priced. Check out the prices above and be sure that you won't find better deals anywhere else.
Go shopping at Hats From OZ and make your wardrobe more fashionable. Our exclusive headpieces are something you can't afford to overlook!
Go for exclusive ladies' hats to complement your wardrobe
Have you just received a wedding invitation and are totally confused about what you should wear? Leave your worries behind because Hats From OZ is where you are meant to be! Avoid going against the dress code and take a look at our range of exclusive ladies' hats and fascinators. These items are essentials that every woman needs to have in her wardrobe.
Magenta, green, cream, navy, red, and an abundance of other headpieces are waiting for you in our assortment. The colour range is almost endless, allowing you to match it to the style of your attire with ease. What is more, our exclusive fascinators are embellished with a lot of fanciful features which give your appearance a touch of glamour. Do not overdo with them, though, if you are not going to put the bride in the shade.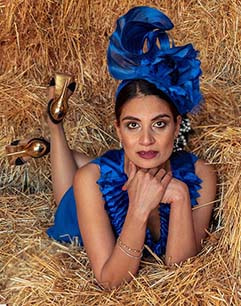 Stick to Your Budget with AfterPay
We know what it's like to see beautiful things for sale and the need to have it right away. Perhaps you have an upcoming event and you saw something you like in our range of casual hats for ladies but you thought you couldn't afford it in time for the occasion. That is why we offer a service called AfterPay.
If you decide to use AfterPay, you can order and receive your products immediately without paying anything. All you need to do then is pay off the cost over four instalments. This service is completely free to you when you make the payments on time, so there is absolutely no added costs. The price you see listed here is the price you will pay in instalments.
So, now that you know a little bit more about what we do here at Hats From OZ, it's time to get back to browsing our women's casual winter hats and stylish summer headwear. We hope you find something you will love for many seasons to come.